Azalea Gardens
Winter Park, FL
February 9, 2020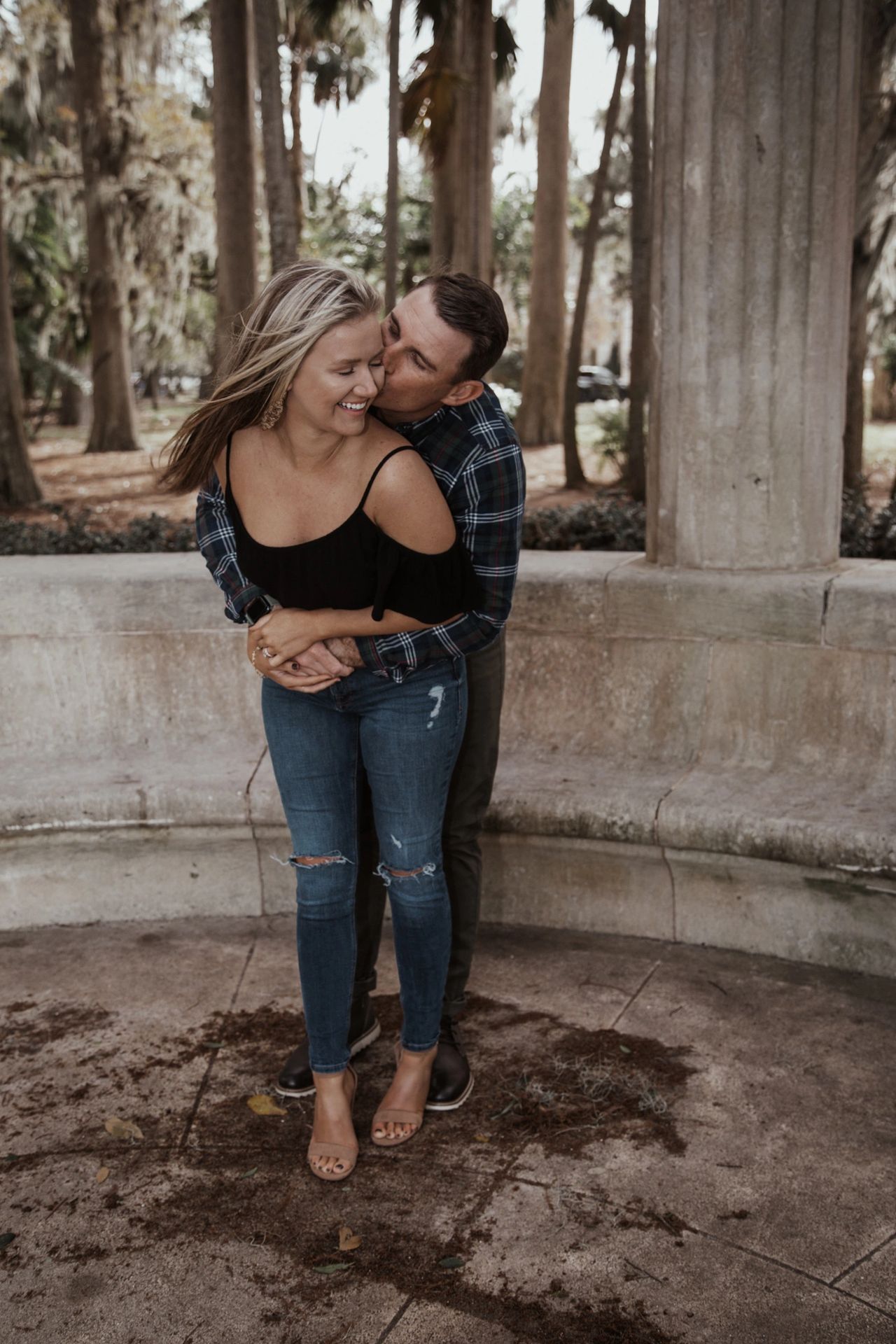 2020 is this couples big year! I am so honored to be their photographer and have enjoyed getting to know them over the past couple weeks. Lauren contacted me through Facebook and we met at a local Starbucks in town, we immediately got along. It felt natural and she booked her date with me the next day!
Joey proposed to Lauren last year at Kraft Azalea Gardens, so naturally we went back there to take their engagement photos! It was the morning after the big storm that came through the Central Florida area. It was a windy FREEZING morning but a perfect morning for a shoot. Lauren texted me they were running late due to Joey having control of the navigation! (Haha)
Once we started we chatted about how they met and tried to stay out of the way of the workers that were picking up all the debris from the storm. We failed at staying out of there way and almost got ran over a couple of times, I can't blame them it was extremely cold. Between the gusts of wind and the workers we succeeded to have an amazing engagement shoot!
These two were made for each other, here is their love story :).
"Joey and I were set up to go on a date by some mutual friends. At first it was a little awkward, they actually just told Joey and me about each other and then put us all (Joey, me, and 4 other friends) in a group text message. Then they left the rest up to Joey! He was very sweet, and it didn't take long for him to invite me out on a date. For our first date, we went to a little restaurant in Cocoa Beach called Tiny Turtle (Love that Place!). We instantly had great conversations and lots of laughs, and I think we both knew there was something there. We had such a good time that we actually had our second date the very next night with our friends that had initially set us up. We have been inseparable ever since! We fell in love pretty quickly, and have been building an incredible relationship. After about two years together, Joey planned out an amazing proposal, with a little help from my sister. He surprised me at Kraft Azalea Gardens, got down on one knee and of course I said YES! Neither of us could stop smiling- it was the best moment of our lives. We have an amazing life together and we couldn't be more excited to get married and start this new chapter!"
Such sweet words by the bride! So excited for August!